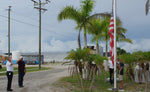 VFW helps Sun Shrimp proudly Honor Old Glory
The Greater Pine Island Veterans of Foreign Wars (VFW) Post 4353 recently conducted a "Honor and Respect Old Glory" flag presentation at Sun Shrimp, located in Lee County, Florida.
Veterans properly retire these flags with the dignity deserved during the replacement ceremony as an opportunity to honor the symbol of our nation; celebrate the men and women who have both fought and died for our many freedoms; and to commemorate the 20th anniversary of loved ones lost on Sept. 11, 2001.
"Sun Shrimp's flag was damaged by recent storms, and we were honored to support their biosecure shrimp harvesting facility," said Post Commander Tom Ferguson. "The Greater Pine Island Veterans of Foreign Wars Post 4353 proudly participates in the national American Flag Exchange Program, available to all Greater Pine Island and Matlacha area residents and businesses."
 VFW Post 4353 will provide a new 3x5-foot or 4x6-foot flag, while the retired flag is given proper disposal in accordance with the U.S. Flag Code. Honoring and respecting "Old Glory" is something that is the responsibility of all Americans, and this program will proactively demonstrate this commitment. Anyone residing on the Greater Pine Island will be able to turn in a tattered and worn flag for a free exchange. The goal is to ensure that only serviceable flags are flown and that unserviceable flags be collected and retired in a dignified manner.
  Sun Shrimp was established in 2013 on Pine Island, off the Southwest Coast of Florida, near Sanibel and Captiva Islands on the Gulf of Mexico. Sun Shrimp is the largest all-natural, sustainable and freshest shrimp growing company in the USA. Our team of more than 100 employees work 24/7 to produce the cleanest, best-tasting and freshest shrimp on the planet, with full control over the entire process. For more information, call 239-26-4720 or visit sunshrimp.com
Sun Shrimp are grown by the leading shrimp farming company in the USA. All Natural and Chemical free. Harvested daily and shipped all across the United States. Sun Shrimp are not only the best tasting shrimp, they are good for you and good for the environment.

sunshrimp.com
.
Robin Pearl, Sun Shrimp (center), VFW Post 4353 Trustees George Bailey and Cliff Bruner, Commander Tom Ferguson, Member Ed Dyche