On Sale
Fresh Harvested Jumbo Sun Shrimp Peeled and Deveined - Family 10 Pack! - Free Shipping
Shipping
Free two day priority shipping on all orders over $50.
We ship Monday through Thursday every week.
Orders received on Friday, Saturday or Sunday will ship the following Monday.
We use UPS overnight and two day delivery anywhere in the USA
For a limited time only!
We are scheduled to harvest a huge number of shrimp in the coming weeks. These shrimp are huge and gorgeous. For a limited time only we are offering a Family 10 Pack for only $149 - This includes free 2 day shipping anywhere in the USA.
Freshly harvested and immediately vacuum packed to ensure maximum freshness and flavor. Come find out what clean all natural shrimp taste like.
Each package contains 1/2 pound (8 oz) of fresh, ready to cook Sun Shrimp. This special offer contains 10 individual 8 oz. packages. Totaling 5 pounds in net weight. Use them all to feed your whole family, or freeze some for later use.
There are hundreds of ways you can cook these amazing shrimp. You can find mouth watering recipes right here on our website. Whether you use them as an appetizer or make them the main meal, our Sun Shrimp tails will never disappoint.
All Sun Shrimp are hand inspected and cleaned ready to cook straight out of the package.

The vacuum skin pack tray makes it easy to store them without leaking or odors. Easily stacked in your freezer and quick to defrost. When ready to cook simply peel back the seal cover and sprinkle on your seasoning in the tray, Minimum mess and maximum flavor.
Find out why chefs everywhere prefer Sun Shrimp.
Customer Reviews
03/02/2021
Jimmy K.

United States
Great
Class act company, customer service is very attentive to needs, kudos to Robin. Prepared Greek style on grille; marinated in olive oil, fresh lemon juice, lots of oregano, salt & pepper. Wonderful taste and will continue to purchase through Sun Shrimp Jimmy K
03/02/2021
Vincent S.

United States
Best shrimp that I have tasted and cooked. Ever!!
This company's product is superb. I am a professional chef and I have never had shrimp this delicious and with perfect texture and size. The shrimp arrived in perfect shape in beautiful state of the art packaging and the shrimp were cleaned in a way that was so perfect. No cuts or splays. Very impressive.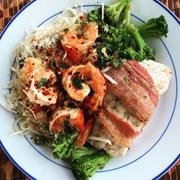 03/02/2021
barbara p.

United States
FANTASTIC! Fresh and beautifully packaged..
The shrimp tasted so fresh and had no fishy, amonia smell. I used some of the to make a shrimp alfredo pasta sauce, and my husband said they were the best shrimp he had ever eaten!!! I am a Florida native, and that is high praise!! Will be buying more. Thanks!
02/25/2021
Theo E.

United States
Great Shrimp
They arrived very chilled and excellently packed. We've used them in shrimp cocktail and in seafood scampi. Delicious. Also of interest is their method of deveining without needing to split the back open. Very nice. This allows for more methods of preparation.
Shrimp are so versatile, and now with our new packaging, it is very easy to make shrimp more often. As one of the most wholesome proteins around, people should have them at least a couple times weekly. Thank you
02/25/2021
John M.

United States
Tasty, fresh and clean
They are more expensive than the Asian ones that are fed who knows what... But you get AMERICAN, farm raised, sweet and delicious! I made a Valentine's Day shrimp scampi for my wife and she was amazed how good it was. I will definitely buy them again.
Glad to hear you were able to cook Sun Shrimp for your special Valentines dinner. Pictures look amazing. thank you for sharing.