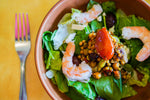 There is a lot of seafood consumed in America each year, and among the most popular options is shrimp. It is not only popular, though. The shrimp industry continues to grow, with the number of shrimp eaten each year rising steadily. In fact, Americans eat over one billion out of the more than six billion pounds of shrimp sold each year.
With there being so much interest in shrimp, you can find it almost anywhere, and Chicago is no exception to the rule. There are quite a few markets and restaurants that stock great seafood, including shrimp. Really, it is quite easy to find amazing shrimp in Chicago as long as you know where to look. Though, there are some things to consider.
The Search for Whole Shrimp in Chicago
If you are searching for shrimp, the process is pretty much the same everywhere. A lot of the shrimp you find even comes from the same places. So, whether you want to go to a seafood market, a grocery store, or order something online, you will get some tasty shrimp. The main difference between different shrimp and providers is the freshness.
One of the great things about Chicago is that it is truly a city for people who love food, so you can find great things everywhere you look. Shrimp included. An example of a place that sells incredible shrimp and seafood is Wixter Market, a place that takes pride in providing the best seafood to its customers.
Wixter Market
Wixter Market started as a neighborhood market, but with a lot of passion and effort, they evolved into something truly outstanding. Not only is Wixter Market a place where you can find some of the best seafood from all around the globe, but they truly care about their products and their customers, and it shows in the principles they adhere to:
Quality - They work with great providers to give their customers the best seafood

Consistency - Every piece of seafood sold is consistent

Natural Preservation - They do not use preservatives, additives, or antibiotics

Sustainability - They strive to keep their practices sustainable
While the Wixter Market is not the largest seafood market in Chicago, their reach does extend to more than five continents, allowing them to bring in only the best seafood out there. Moreover, their passion for seafood and intensive knowledge and effort makes it worth shopping there.
Of course, while they have incredible products, they do only have two options when it comes to shrimp. The first is their American Shrimp, which is a product of the USA that comes directly from the Gulf of Mexico. It is served raw, peeled, and deveined, and it is incredibly tasty shrimp that adheres to all of the principles stated above.
The other type of shrimp they carry is Cooked Norwegian Shrimp, which comes from the Barents Sea. They are a sweeter type of shrimp that come cooked, frozen, peeled, and deveined.
Both of the types of shrimp above can be purchased in their store, but you can also order it online if you wish.
More Seafood Markets
Although Wixter Market is a great place, it is not the only option for purchasing shrimp. There are quite a number of seafood markets in Chicago, with many of them having a great stock of delicious shrimp. Some of the seafood markets in Chicago that carry shrimp are:
Hagen's Fish Market

Dirk's Fish & Gourmet Shop

The Fishguy Market & Wellfleet

Market Fisheries

Fresh Catch Fish and Seafood
You can find all kinds of fresh and delicious seafood products in the markets listed above, and this includes various types and sizes of shrimp. They are not the only options either, with Chicago having a number of seafood-centric markets that can help you if you are looking for high-quality shrimp.
Going to the Grocery Store
If you would rather not go out of your way to shop at a seafood market just for shrimp, there are other options. One of the easiest ways to find good shrimp is by going to a grocery store. After all, most grocery stores offer shrimp in one form or another.
If you do not mind buying frozen shrimp, then you can always go to a commercial grocery store. They offer a variety of seafood, with shrimp being one of the most popular. Moreover, there are higher-end grocery stores as well, which have an even greater selection.
Of course, even at nicer grocery stores with a dedicated seafood department, the shrimp you find will likely be "re-freshed" or "previously frozen" shrimp. It is still fresh and often delicious, but it is very difficult to find shrimp that has not been frozen for a significant amount of time, especially in Chicago.
When you buy shrimp from these places, or even seafood markets, the question you have to ask yourself is how fresh the shrimp you are buying actually is.
Why Buying Truly Fresh Shrimp Is Difficult
There are a lot of places that sell "fresh" shrimp, but the truth is that it is difficult to find anything that can be considered truly fresh. However, there is a reason that it is difficult to find fresh shrimp. Although Americans eat a lot of shrimp each year, even taking up a sizable part of the shrimp market as a whole, most of the shrimp is imported.
Of course, there are a lot of great types of shrimp out there, including quite a few that are from US waters. Moreover, you can find shrimp everywhere, from grocery chains and specialty stores to seafood markets. Yet, despite the prevalence of shrimp, more than 90% of one of America's favorite types of seafood — shrimp — is imported.
The fact that it is imported is not the only thing you need to pay attention to. The "where" is also a major point, with most of the imported shrimp coming from Southeast Asia and Central America. That is important because it means that the shrimp has to travel a long distance to reach the shelves, and even reputable fish markets cannot change this.
However, there are options if you want something considerably fresher. One option is Sun Shrimp. Sun Shrimp offers fresh shrimp, and they operate in a way that is considerably different from most other shrimp providers.
How Sun Shrimp Is Different
When there is passion behind a company, it becomes clear, and at Sun Shrimp, the passion and goal is to produce amazing shrimp for America. Moreover, it is all done within the US, taking place on an island off the Southwest Coast of Florida. And the location is only the first step in Sun Shrimp's pursuit of freshness and quality.
The mission to provide America with incredible shrimp continues with water from a deep well on the very island the shrimp are raised. The water is constantly monitored and taken care of to avoid problems and prevent disease without the need for antibiotics. Moreover, most of the water is used for the lifetime of the shrimp and then recycled.
However, perhaps the biggest reason Sun Shrimp can deliver fresh, delicious shrimp is the way delivery is handled. Sun Shrimp works year-round to ensure that they provide customers with the freshest product, minimizing the time between the shrimp being harvested and delivered to your door. Sun Shrimp does not even use preservatives.
What Sun Shrimp Offers
Sun Shrimp provides fresher shrimp that does not have any preservatives or antibiotics. More than that, they offer a range of carefully raised shrimp to choose from, giving you the ability to take care of all of your needs in one place. Here are some of the products offered by Sun Shrimp:
Peeled and Deveined Shrimp - 5 Tray Packs 

(Ships fresh to Chicago)

Sun Shrimp BBQ Feast 

(Ships fresh to Chicago)
There is one thing that you get, no matter which type of shrimp you decide to purchase, which is freshly harvested shrimp. You are also getting Pacific White Shrimp, known as Ecuadorian Whites as well. These shrimp are the most cultured shrimp in the world, and it is no surprise considering how delicious they taste.
Whole Sun Shrimp
Buying Whole Sun Shrimp is the best choice for those who prefer to use every part of a shrimp, from the head to the tail. Because you are getting the whole shrimp, you can use it for a lot of things, making it a versatile option. Of course, it might take a bit more effort, but it is worth it.
The Whole Shrimp can be purchased at a minimum of 2.5 pounds, and they come in a 5-tray pack, with each tray being half a pound. However, you can only get large shrimp in the 2.5-pound order. Starting at five pounds, you can choose between the delicious large shrimp and the jumbo shrimp.
You can also purchase Whole Sun Shrimp in 10- and 25-pound batches, though it is limited to large shrimp. Though, if you want a different amount of jumbo shrimp, you can always order multiple five-pound batches.
Sun Shrimp Tails
Sun Shrimp also offers just the tails of the shrimp, which no longer have the heads but still have some extra parts to add flavor to any dish. Of course, just because they have everything but the head does not mean they are not cleaned and ready to cook with.
There are also just as many choices with the Sun Shrimp Tails as there are with the Whole Sun Shrimp. You can order anywhere between 2.5 pounds and 25 pounds of shrimp, and it comes in half-pound trays. Moreover, you can get tasty jumbo shrimp in batches of five pounds.
Peeled and Deveined Sun Shrimp
Out of the three preparation options, this is the one that requires the least effort on the part of the customer. The shrimp come peeled and deveined, and since they are clean, you can begin cooking with them quickly. The price is a bit higher here, but the amount of time you can save can have you eating them quicker than ever.
As with the other options, the weight categories range from 2.5 pounds to 25 pounds, and you can purchase jumbo peeled shrimp in the five-pound batches. You can also expect it to come in the same convenient half-pound trays.
Sun Shrimp BBQ Feast
For those who like to BBQ, there is a special option. Each order of the Sun Shrimp BBQ Feast is made to feed between two and four people, and it includes everything you need to have a delightful meal with delicious Sun Shrimp:
Two 8 oz. packages of whole jumbo shrimp

Four 8 oz. packages of jumbo shrimp tails

Bamboo sticks

Florida Everglades BBQ Sun Shrimp spices

Organic Olive Oil
You can skip all the guesswork with the Sun Shrimp BBQ Feast since it comes with everything you need to make a great meal. Plus, the shrimp comes in the usual vacuum skin packages, adding convenience to your BBQ.
The Added Convenience of Sun Shrimp
While having fresh shrimp is the main goal, Sun Shrimp goes above and beyond to make things convenient for its customers, and it all begins with the packaging. The vacuum skin packaging eliminates mess and odor and makes the shrimp easy to store. Though, that is only one of the things that makes Sun Shrimp so convenient.
Subscriptions
It is easy to make a single, one-time order with Sun Shrimp, but you can also choose to receive fresh shrimp regularly. It can be scheduled to be sent out every week, two weeks, three weeks, or monthly. There is even a discount for subscription purchases.
Shipping
It takes a lot of effort to ship the way Sun Shrimp does, which is within hours of the shrimp being harvested. Therefore, shipping is only done Monday, Tuesday, and Wednesday every week.
Shipping costs 15$, no matter where you are having it shipped in the US. However, if you order over 100$, shipping is free. You can even request express or overnight shipping if needed, allowing you to enjoy Sun Shrimp as soon as the next day!