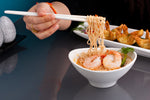 Shrimp is one of the most beloved types of seafood in the world, with more than six million pounds hitting the market yearly. Moreover, Americans are one of the largest consumers of shrimp, eating more than one billion pounds a year. The number is even rising, making it obvious just how large the industry is within the US.
Therefore, with shrimp being such a beloved seafood product, it should come as no surprise that Los Angeles has a lot of great shrimp. In fact, considering the diversity and the amount of great food in the area, it would be more surprising if shrimp was not present all over Los Angeles. In truth, you do not even have to look that far to find it.
Buying Large Shrimp in Los Angeles
Although location can mean a lot when it comes to finding great, fresh seafood, when it comes to shrimp, things are mostly the same. After all, a lot of commonly seen shrimp comes from the same places. Of course, you might find something special at a seafood market, but even grocery stores can carry quality shrimp that will not disappoint.
The main thing you need to be conscious of is the freshness of the seafood you are purchasing. In Los Angeles, you can find some really great products, and there is no doubt that you can find tasty shrimp, especially at some of the local seafood markets. One good example of this is Fish King, a seafood market with a love for fresh products.
Fish King Seafood Market
Fish King is an independently-owned seafood market that takes pride in being one of the best purveyors of seafood in the area. In fact, they have been serving the area as a family-owned seafood market since 1948, and their goal is to bring the freshest seafood directly from the sea to their customers.
One of the best parts about Fish King is how much they have to offer, starting with a large variety of fresh seafood, including shrimp. If you want a better idea of what they have, their website keeps a daily inventory list that allows you to check what is in stock before heading over. There are even monthly specials and seasonal items.
Fish King is not a simple seafood market, though. They offer a variety of accompanying products, such as groceries and house-made marinades and sauces, to ensure that you get the most out of their delicious seafood. Moreover, they are equipped with an impressive kitchen, where they prepare amazing dishes for dine-in or takeout.
As for their shrimp selection, they carry both large and jumbo shrimp. They even carry Santa Barbara Shrimp when they are available. Plus, when you get shrimp, you can choose from a number of preparations, from whole shrimp to shrimp that have been peeled and deveined.
While there is no delivery option with Fish King, you can place orders for their kitchen online. They even provide catering if you want to share some of their fresh, delicious seafood with others without having to cook it yourself.
Seafood Markets Galore
Fish King is an amazing seafood market, but Los Angeles is a place where you can find a great deal of delicious food, whether it be cooked or raw. As such, it is loaded with great seafood markets, and a lot of them carry shrimp. Here are a few other seafood markets you can look for if you want shrimp:
Los Angeles Fish Company

Seafresh Trading

Hoi Yeung

Fisherman's Outlet

Monsieur Marcel Seafood Market
You will find that a lot of the best seafood markets in Los Angeles provide more than just fresh seafood. Many of them also serve prepared food as well, so you can get a taste of what is possible with their shrimp before you buy some for your own dishes. Plus, there are a ton of seafood markets to choose from, so you will definitely find something great.
Grocery Stores Provide Another Option
When it comes to buying shrimp, a grocery store provides a very convenient option for those who do not want to go out of their way to get a decent piece of seafood. After all, you will have no problem finding shrimp in most grocery stores.
Even if you go to a larger chain grocery store, you will see a variety of seafood options, especially if you do not mind frozen seafood. Moreover, among the commonly seen seafood, shrimp is one of the most prevalent, and it only becomes easier to find if you go to a store with specialty products and a seafood counter.
There is one thing that you need to keep in mind, though, which is that almost all of the shrimp you find in these stores will be labeled as "re-freshed" or "previously frozen" shrimp. The reason for this is that almost all shrimp sees considerable time in a freezer before being sold, leaving you to wonder how fresh the shrimp you get actually is.
The Struggle of Finding Fresh Shrimp in Los Angeles
There is a big difference between shrimp that tastes fresh and shrimp that is actually fresh, and most of the shrimp you will find is shrimp that tastes fresh but is not actually fresh. The reason for this is the fact that almost all of the shrimp Americans consume every year is imported from other countries.
Of course, there are some great shrimp from US waters, but they make up a very small portion of the market and are usually frozen on boats for long periods of time. The rest of the shrimp that can be found in the US is imported, and that shrimp makes up more than 90% of all of the shrimp eaten by Americans each year.
The fact that most of the shrimp eaten in America comes from Southeast Asia and Central America is another reason that it is difficult to find truly fresh shrimp. After all, shrimp that travels such a long distance have to be frozen, and the duration it remains frozen can be quite long. The same problem exists even at reputable seafood markets.
There are other options, though. Sun Shrimp provides an alternative to seafood markets and grocery stores, selling truly fresh shrimp and doing things in a unique way that might just change the way you think about fresh shrimp.
How Sun Shrimp Changes Things Up
If there is one thing that Sun Shrimp pursues above all else, it is freshness, with the company being dedicated to providing only the best high-quality shrimp to Americans. It all takes place in the US as well, with everything taking place off the Southwest Coast of Florida. Sun Shrimp's prime location even plays a role in the freshness of the shrimp.
One of the most important aspects of raising delicious shrimp is the water, and Sun Shrimp uses water from a deep well on the island, which is perfect for raising shrimp. Moreover, they monitor the water with care, ensuring that nothing goes wrong throughout the process and avoiding the need for antibiotics.
Sun Shrimp's process does not stop there, though. In order to ensure that only the best shrimp is sent out, Sun Shrimp harvests all year, working hard to deliver only the freshest shrimp. In fact, the shrimp are so fresh that Sun Shrimp does not even use preservatives, meaning you are getting the freshest, purest shrimp out there.
The Products of Sun Shrimp
Everything sold by Sun Shrimp is free from antibiotics and preservatives, so you can rest assured that you are getting delicious, fresh shrimp. Sun Shrimp even strives to provide all of the shrimp products you might need, selling several sizes of shrimp prepared in different ways. The products offered by Sun Shrimp include:
Sun Shrimp BBQ Feast 

(Ships fresh to Los Angeles)
No matter which of these products you choose, you will be receiving the same freshly harvested shrimp that makes Sun Shrimp so unique. In fact, you will be getting the most cultured shrimp in the world, which are Pacific White Shrimp. They are also called Ecuadorian Whites, and they are an incredibly tasty species of shrimp.
Whole Sun Shrimp
There are a lot of dishes that call for the entire shrimp, from head to tail, because of how much flavor it can deliver. It can take a bit longer to deal with these shrimp, but considering how much you can do with them, they are never a bad option. You can even buy them in different weights and sizes to serve almost any purpose.
When purchasing Whole Sun Shrimp, the minimum order is 2.5 pounds, and at that weight, the only size available is the large shrimp. If you go up to five pounds, you have a choice between large and jumbo shrimp. Regardless of which size and weight you prefer, all Sun Shrimp comes in half-pound trays that lock in freshness.
There are larger options as well, allowing you to purchase large Sun Shrimp in batches of 10 and 25 pounds. If you wish to purchase more than five pounds of the jumbo shrimp, you can always add multiple orders to your cart as well.
Sun Shrimp Tails
Another delicious way to enjoy Sun Shrimp is just the tails, which have the heads removed but retain everything else to pack more flavor. Moreover, like every Sun Shrimp product, they are cleaned and ready to be used.
There are the same number of size and weight options when it comes to the Sun Shrimp Tails, starting with 2.5-pound batches and going all the way to 25 pounds. Even the jumbo shrimp is the same, coming in five-pound batches that are sure to satisfy.
Peeled and Deveined Sun Shrimp
If you are looking for something easy to work with and eat, then the Peeled and Deveined Sun Shrimp is a great choice. It is already completely ready to work with, having all the troublesome parts removed and dealt with. These shrimp are already clean upon arrival as well, meaning you can get right to cooking.
As with the other products, there are multiple size and weight options, starting at 2.5 pounds with the large shrimp. Jumbo shrimp are available at five pounds exclusively, though the large shrimp go up to batches of 10 and 25 pounds.
Sun Shrimp BBQ Feast
Shrimp has always been known to taste great when barbecued, and Sun Shrimp is no exception to that rule. In fact, with how fresh it is, you are sure to love the flavor. To make things even easier, the Sun Shrimp BBQ Feast comes with everything you need to feed 2-4 people, including:
Two 8 oz. packages of whole jumbo shrimp

Four 8 oz. packages of jumbo shrimp tails

Bamboo sticks

Florida Everglades BBQ Sun Shrimp spices

Organic Olive Oil
With the Sun Shrimp BBQ Feast, you can see just how amazing these Sun Shrimp taste. Moreover, since it all comes neatly packaged, you will have little to deal with from prep to cleanup.
Sun Shrimp Is the Convenient Option
Sun Shrimp has fantastic shrimp, and the goal is to share it with everyone. Therefore, things do not stop at freshness and quality. The packaging is also highly convenient, with the vacuum skin trays eliminating odor and mess and providing an easy way to store and portion your shrimp. And that is just the beginning.
Subscriptions
Sun Shrimp can be purchased in a single, one-time order, but it can also be enjoyed regularly. In fact, there is an option to sign up for a regular delivery of delicious Sun Shrimp, from weekly to monthly. It even comes with a discount.
Shipping
In order to make sure that you get the freshest shrimp possible, Sun Shrimp ships your shrimp out within hours of it being harvested. That being said, shipping days are limited to Monday, Tuesday, and Wednesday, but it is worth the wait.
As for shipping fees, there is a 15$ flat rate in the US. However, if you order more than 100$ worth of Sun Shrimp, shipping is free. It is even possible to request express or overnight shipping, making things as easy and convenient as possible.