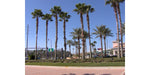 American's are wild about seafood, and nothing is quite as popular as delicious shrimp. It is so beloved that the amount consumed every year exceeds one billion pounds, and it is not anything new. With shrimp being so popular, there is no shortage of it in a place like Orlando, which has great seafood. All you have to do is know where to look.
Where to Find Shrimp in Orlando
Although the specifics vary by location, there are a few surefire ways to find shrimp. Most people buy shrimp directly from their local grocery store, but the quality can be lacking. Another popular option is seafood markets, which usually offer a bump in selection and quality. And of course, there is always the internet.
None of the above options are necessarily better than the others. The real key is where you live, with specific stores and the availability of shrimp playing major roles. Those things are not a problem in Orlando, where there are plenty of fantastic stores and shrimp can be found in abundance. Lombardi's Seafood is proof of that.
Lombardi's Seafood
Lombardi's is a name that has existed in Orlando for over 50 years, offering high-quality seafood to individuals and businesses. They provide a wide range of products, and the freshness of what they offer is a cut above the rest. Moreover, they are continuously growing and expanding, with plans to add online ordering soon.
However, the best part about Lombardi's is that they carry numerous types of shrimp in a variety of sizes, with a few including:
Pink, white, and brown shrimp from the US

Shrimp from Central America and South America

Tiger Shrimp

Rock Shrimp
The above types of shrimp are what they offer to their wholesale clients, but their selection is fantastic nonetheless. They even sell cooked shrimp or everything you need to make something delicious at home. If your goal is to support a local business that has great shrimp, you can always take a look at this amazing seafood provider.
Other Seafood Markets
Orlando is a rich seafood city, and while Lombardi's is an example of that, it is not alone. There are plenty of seafood markets that aim to provide the freshest, most delicious shrimp you can find. A few of the other seafood markets you can consider in Orlando are:
D'Ocean Fish Market

Bar Harbor Seafood

La Perla Seafood Market

iFresh Market
There is no lack of seafood markets in Orlando, and these are just a few of the options. All you have to do if you are looking for delicious shrimp, all you have to do is take a look around and find a local market. That being said, even in these fantastic locations, all of the shrimp sold are likely to be frozen.
Grocery Stores
The most common option when people are looking for seafood and shrimp is a grocery store. There is a dip in quality and selection compared to seafood markets, but grocery stores still offer some tasty options. Moreover, they are a convenient choice if you want to get everything in one place, especially if you are looking for frozen shrimp.
Of course, there is no rule that states that you cannot find good shrimp at a grocery store, particularly specialty and gourmet grocery stores that deal with high-quality food. Do not let the fact that what you find is frozen, either, since most of the shrimp you will find in seafood markets is going to be frozen as well.
The Truth of Seafood Markets and Grocery Stores
There is fresh shrimp to be found at seafood markets and grocery stores, but it is not what you might be expecting. Most of the shrimp you find had to travel quite a distance to arrive in stories, with a majority of it being imported from Central American and Southeast Asia. In fact, around 90% of America's shrimp is imported.
When it comes to imported shrimp, there is no way to avoid it being frozen to keep it fresh. Therefore, you are left wondering just how long the shrimp you are buying has been frozen. If you are lucky, it comes from local waters. But even then, there is no guarantee. There are other options, though, such as Sun Shrimp.
What Sun Shrimp Does
Everyone wants a high-quality product, and Sun Shrimp is determined to deliver. They do not compromise and keep their shrimp frozen for long periods, approaching things in an entirely different way. Sun Shrimp meticulously sees things through, taking great care in everything, starting with the water they use.
There are also no antibiotics used on their shrimp. Sun Shrimp keeps their shrimp disease-free by paying close attention to every step. They even take things further by avoiding preservatives and delivering pure, tasty shrimp.
The harvest is actually what makes Sun Shrimp stand out. They do not keep their shrimp in a freezer or rely on preservatives. Instead, they ship their shrimp out quickly after it is harvested, within hours. It is this practice that makes sure that you get the best shrimp that is as fresh as possible.
There Is a Great Selection
There is no better option if you are looking for fresh shrimp. However, it is not just above freshness. Sun Shrimp has several options to ensure that you find the best shrimp for your needs, whether you plan to throw them on the barbeque or use them for a dish. The preparations you will find are:
Whole Sun Shrimp

Sun Shrimp Tails

Peeled and Deveined Sun Shrimp
The shrimp come in large and jumbo sizes as well. Plus, you can pick exactly how much you want, with these delicious shrimp starting at 2.5-pound orders and working their way up to 25-pound batches. The jumbo, on the other hand, can be bought in 5-pound batches. You will not find better Pacific White Shrimp out there.
You Also Get Convenience
Sun Shrimp also excels when it comes to providing a convenient option for purchasing shrimp. They ship anywhere in the US, and they offer subscriptions to keep the shrimp coming. Plus, all of the shrimp you order will come in vacuum skin packaging, keeping them fresh and preventing messes and odor.