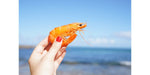 No seafood is as popular in the United States as shrimp, with Americans eating more than one billion pounds annually. It is not a new trend, either. Therefore, it should come as no surprise that you can find some amazing fresh shrimp in San Francisco. All you need to know to find it is where to look.
Finding Shrimp in San Francisco
There are a few ways to find shrimp, no matter where you live. The first is to search for a local seafood market, which will likely carry the freshest local products available. Alternatively, you can find shrimp at almost any grocery store that sells seafood. And if all else fails, you can always turn to the internet.
The best option usually depends on where you live, and those who live in San Francisco are in luck. There is no shortage of great seafood in San Francisco, and shrimp is no exception. Therefore, it is quite easy to find delicious local shrimp, with One Ocean Seafood being a great example.
One Ocean Seafood
If you are looking for something local, then you cannot go wrong by choosing One Ocean Seafood. This seafood market's goal is to serve the best seafood to the Bay Area, with there being a heavy focus on quality and freshness. And since it is located on one of San Francisco's piers, so you can expect high-quality products.
One Ocean Seafood carries quite the variety of fresh and frozen seafood as well, and that includes several types of shrimp, including:
Oregon Bay Shrimp

Wild Gulf Shrimp

"Del Pacifico" Shrimp
Aside from providing a selection of tasty shrimp, One Ocean Seafood offers local delivery. Of course, all of the shrimp they offer are frozen, but the quality and taste will not disappoint. So if you are looking for a convenient, local option, you should take a look at One Ocean Seafood.
Seafood Markets
One Ocean Seafood is not the only seafood market in San Francisco. In fact, there are many of them, and with so many carrying shrimp, you have plenty of options. Here are a few other seafood markets that you can consider:
Seafood Center

Sun Fat Seafood Company

Aloha Seafood

Fresh Meat Seafood Market
These are only a few of the seafood markets in the area that carry delicious shrimp. If you look around, you are bound to find a number of markets that specialize in seafood, and most of them are going to carry shrimp. All you have to do is look.
Grocery Stores
If you do not want to go to a seafood market, you still have the option of finding some great shrimp at your local grocery store. While the selection and quality might not be on the same level as a seafood market, you will find some fantastic options, especially when it comes to frozen shrimp.
In fact, considered the proximity to the ocean, you might find some surprisingly fresh and delicious options, even at ordinary grocery stores. There might be even better choices at gourmet and specialty stores. And if you are unsure about the freshness of these frozen products, consider that most of what is found in seafood markets is frozen.
The Problems With Seafood Markets and Grocery Stores
You can find fresh shrimp in seafood markets and grocery stores, but the definition of fresh is a little different from what you might expect. After all, the distance that most shrimp travels is quite significant, especially when you consider that around 90% of the shrimp eaten in the US is imported. Even somewhere like San Francisco, it is the same.
The truth is, most of the seafood in the US comes from Central America and Southeast Asia, meaning it travels quite a long distance to arrive at its destination. Moreover, who knows how long it remains frozen before it is put out and sold. However, there are options that guarantee freshness, with one such option being Sun Shrimp.
Sun Shrimp Stands Out
Sun Shrimp is dedicated to providing the freshest shrimp possible, so even though shrimp freezes well, they do not compromise. They are meticulous when dealing with their shrimp, starting with the water they use, which comes from a deep well on the island where they are located.
They also keep their shrimp disease-free without using antibiotics. They do not even use preservatives, delivering shrimp in a way that allows them to show up fresh, pure, and delicious.
In fact, the way they harvest and ship their shrimp is what makes Sun Shrimp so fresh and amazing. Unlike most shrimp, Sun Shrimp is not kept in a freezer for a long time after it is harvested and prepared. Instead, it is shipped out within hours of being harvested, ensuring you get your Sun Shrimp at the peak of its freshness.
What Sun Shrimp Offers
If you are looking for fresh shrimp, it does not get any better than Sun Shrimp. Not only are their shrimp free from antibiotics and preservatives, but they sell a variety of preparations to provide you with exactly what you need. The shrimp they sell include:
Whole Sun Shrimp

Sun Shrimp Tails

Peeled and Deveined Sun Shrimp
Not only do they sell various preparations, but they sell their shrimp in large and jumbo sizes. The orders for these shrimp start at 2.5 pounds and go to 25 pounds, though the jumbo shrimp are only sold in batches of five pounds.
All of the shrimp sold by Sun Shrimp are of the same quality, and they are all Pacific White Shrimp, which is the most cultured shrimp in the world. It is also a versatile choice that can be used in numerous ways.
Sun Shrimp Also Pays Attention to Convenience
Sun Shrimp provides delicious, fresh shrimp anywhere in the US, but they also go the extra mile in other areas. One example is their vacuum skin packaging, which prevents messes and odor. Moreover, the shrimp come in half-pound batches, so you can only use the amount you need while preserving the rest.
Moreover, Sun Shrimp provides subscription options, which allow you to have shrimp delivered regularly, with options from one week to a month. You even get a discount if you go with a subscription.