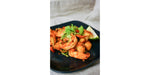 When it comes to getting food, things have never been easier. While many people still go to a grocery store or local market, some services will do both the shopping and delivery for you. Some businesses even ship their products directly to the customer, and shrimp is one of the many products that can be sent right to your doorstep.
However, shrimp is perishable, so you want the freshest and tastiest product possible. Fortunately, there are plenty of options to get fresh, delicious shrimp delivered. Read on to learn more about the methods available for having shrimp delivered.
Fresh or Frozen Shrimp
When looking for shrimp, whether it be at the store or online, you need to consider whether you want fresh or frozen shrimp. The truth is, fresh shrimp is difficult to find. In stores, fresh shrimp is likely previously frozen and the same thing you find in the frozen section, just thawed.
That being said, you can find fresh shrimp, but that is only if you live close to the source. Otherwise, frozen is probably the only thing that will be available. The same is true of the shrimp you have delivered. If you live somewhere with fresh shrimp, you might be able to get it sent to you. However, if you do not, what you find will be frozen.
The reason frozen shrimp is so prevalent is that most of the shrimp eaten in America is imported. Therefore, the only way to keep it fresh is to freeze it. However, there are ways to have fresh shrimp delivered.
Having Shrimp Delivered
It might be more convenient for some people to get shrimp while they are shopping for other groceries, especially if it is a sudden decision or something you plan on using immediately. But delivery is a fantastic option if you know when you will need it. It also allows you to get shrimp that might not be available in your area.
That being said, to get great shrimp delivered, you need to know where to look and what you can expect to find. A great place to start is with the local delivery options available to most people.
Local Delivery Options
The first way to get shrimp delivered is from a local store. There are many stores that deliver, and there are plenty of services that shop and deliver groceries directly to your door. You will likely only find frozen shrimp, but that might not be the case for everyone. If a local seafood market carries fresh shrimp, there is no reason to look elsewhere.
The big advantage of having shrimp delivered from a local store or market is that it can arrive quickly. You might even be able to have it to your door the same day that you order it. Plus, you can get other things at the same time. However, there are other options if your local stores do not carry what you want.
Long-Distance Options
Local options are convenient, but depending on where you live and what is available, they might not carry what you need. Moreover, there is a good chance that you will not be able to find the freshest shrimp at your local grocery store. You will not have the same problems if you go with a long-distance option.
While many people do not think about it, shrimp can be shipped from almost anywhere. After all, that is how it gets to the grocery stores. It might even be fresher if you have it shipped directly to you, even if it is frozen.
If you decide to go with long-distance shipping, you also get access to some of the best seafood providers out there, such as Fulton Fish Market and Rastelli's. The only downside to having shrimp shipped long-distance is that it might take some time to arrive. If you want it quickly, you might even need to pay extra or order a lot of shrimp.
Wholesale Shrimp Delivery
If you are a business that is looking to sell shrimp and you want to buy them wholesale, you are more than likely going to be getting them delivered. However, the same options as above apply to wholesale shrimp as well. You can look for a local wholesaler if the option is available, or you can turn to a larger wholesaler that ships nationwide.
Getting Fresh Shrimp Delivered
Most delivery options deal with frozen shrimp, whether they be local or located somewhere else in the US. It is just the way it works, especially for those who do not live near the ocean. But there is an option that deals with fresh shrimp and offers delivery anywhere within the United States, which is Sun Shrimp.
What Sets Sun Shrimp Apart
There are delivery options everywhere you look, but Sun Shrimp is unique in the way it goes about harvesting and delivering its shrimp. Mainly, it is how quickly the shrimp is sent out after harvest. It is normal for shrimp to be frozen on a boat before it returns to land, with only day boats offering fresher shrimp.
Sun Shrimp does things differently. All of their shrimp is raised on an island off the Southwest Coast of Florida, and it is shipped out within hours after being harvested. It does not sit around in a freezer, being delivered directly to your door.
Moreover, Sun Shrimp pays attention to the small details. Not only is the shrimp fresh, but it is kept in vacuum skin packaging, which preserves freshness, prevents messes, and eliminates odor. It is even packaged in half-pound batches, so you only have to use as much as you need.
Sun Shrimp caters to every buyer as well, having a variety of purchasing options for their shrimp. You can buy amounts as small as 2.5 pounds, or they sell wholesale. Plus, they offer express and overnight shipping if requested, making it a great way to get fresh shrimp, no matter where you are in the US.