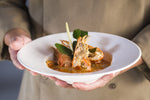 When it comes to seafood, there are few things that can compete with shrimp when you are talking about the amount consumed. In fact, out of the more than six billion pounds that hit the market each year, Americans eat more than one billion pounds of it, making shrimp a major industry in the US. And those numbers are only continuing to grow.
Since shrimp is such a major seafood product, there is no shortage of it in New York City, which has many active seafood markets and a massive number of impressive restaurants that serve shrimp on their menu. Therefore, if you are looking for great shrimp in New York City, you can find it. You just have to know where to look.
When it comes to finding shrimp, the options are always pretty much the same, no matter where you are. You can search for a seafood market, you can find a grocery store that sells fish, or you can order it online. The differences come from how readily available fresh shrimp is.
Fortunately, in New York City, fresh seafood is everywhere, and the selection of shrimp is excellent. An example of a place where you can always find great seafood is one of the largest and oldest fish markets out there, the Fulton Fish Market, now known as the New Fulton Fish Market.
The New Fulton Fish Market
The Fulton Fish Market has a history that is nearly 200 years old, starting from 1822 and continuing today. The only reason it is known as the New Fulton Fish Market today is that it moved locations in 2005, but that has done little to hamper the reputation of this incredible fish market. If anything, it is now stronger than ever.
At the New Fulton Fish Market, you can get all kinds of fresh fish, with the market containing more than 30 seafood wholesale businesses. Therefore, if you are looking for a large amount of shrimp, then you cannot go wrong with the New Fulton Fish Market.
In addition to visiting the market, which can be a tiresome process, there is another option. If you are shopping for smaller amounts, you can easily do so online. You can even get free delivery if you order a certain amount at one time. Some of the types of shrimp that you can purchase online from the Fulton Fish Market are:
Fresh, White Gulf, Wild Shrimp from the USA

Frozen, Del Pacifico, Wild Shrimp from Mexico

Frozen, Farmed Shrimp

Frozen, Chemical-Free, Farmed Shrimp
One thing that you should be aware of if you decide to get shrimp this way is that there is only a single type of shrimp that is from the USA. Moreover, it is unlikely to come from a day boat, so you are still getting something that has been frozen, even if it is quite fresh.
Other Seafood Markets
The New Fulton Fish Market is not the only option for those looking for fresh shrimp. In fact, there are numerous fish and seafood markets in New York City, and many of them carry incredibly good seafood, and their shrimp is no exception. Some of the well-known seafood markets in New York City are:
Dorian's Seafood Market

Aqua Best, Inc

Fish Express

Centre Seafood

New Hai Cang Seafood Inc
Each of the above seafood spots is known to have fresh and delicious products, including shrimp. And they are not the only ones. New York City has a number of seafood markets, making it rather easy if you are looking for high-quality shrimp.
Grocery Stores
It might not be reasonable for you to venture out to a seafood market every time you want some shrimp. Fortunately, there are other options as well, with most grocery stores carrying shrimp in some form or another.
Commercial grocery stores sell a variety of seafood, including shrimp, and if you go to a specialty grocery store, then you will find even more variety. You might even find some "re-freshed" or "previously frozen" shrimp that is quite fresh. After all, as mentioned before, almost all of the shrimp you find will have been frozen at some point.
Since all shrimp has likely been frozen previously, the question becomes, just how fresh is it? Well, while you can get shrimp from the grocery store, there is quite a large chance that it has traveled a good distance. After all, the same is true of the seafood markets that pride themselves on serving the freshest products possible.
The Problem With These Places
If you have not realized it by now, despite these places having "fresh" shrimp, it is incredibly difficult to find anything truly fresh, and there is a good reason for this. While Americans do eat over one billion pounds of shrimp each year and constitute quite a large portion of the shrimp market, very little shrimp is produced in the United States.
You might wonder how much shrimp is produced here and how much is imported. After all, there have been quite a few options listed for where to buy great shrimp. You have grocery chains, specialty stores, and seafood markets galore. However, the truth is quite shocking, with around 90% of shrimp being imported.
Moreover, the majority of shrimp is not just imported, but it is imported from Southeast Asia and Central America, which means it travels quite a distance to reach the shelves. It might be a little more direct and fresh at a reputable seafood market, but even in places like the New Fulton Fish Market, you see more shrimp from Mexico than the US.
The reason all of this is important to know is that there is another option. Namely, Sun Shrimp offers a solution, and it does so in a way that might change the way you think about buying shrimp.
The Sun Shrimp Difference
Sun Shrimp is a company with a mission to supply America with incredible shrimp, and they do so in a way that goes above and beyond. For starters, it is a company located in the United States, operating on an island off the Southwest Coast of Florida. Not only are they located in the states, but their entire process ensures the utmost freshness.
The water used by Sun Shrimp is from a deep well located on the island, and it is taken care of meticulously to avoid any problems, which allows them to provide shrimp that are free from disease without the use of antibiotics. Sun Shrimp even recycles the water used, being discharge-free and taking care of the land they operate on.
Perhaps most importantly is how Sun Shrimp can deliver fresh shrimp. Unlike other shrimp, which are almost guaranteed to have been frozen at some point, Sun Shrimp works hard to provide fresh products all around the year. Moreover, Sun Shrimp does not use preservatives, keeping the shrimp as pure and healthy as possible.
The Sun Shrimp Catalogue
Sun Shrimp products are not just a fresher option with no antibiotics or preservatives. There is also a large variety of carefully raised shrimp to choose from, allowing you to fulfill all your shrimp needs in one place. Some of the great products Sun Shrimp offers are:
There are many different options to choose from, but no matter what you opt for, you will be getting freshly harvested shrimp. Plus, you are getting Pacific White Shrimp, also known as Ecuadorian Whites, which are the most cultured shrimp in the world. These are delicious shrimp that will taste good no matter how you eat them.
Whole Sun Shrimp
If you are looking for the entire shrimp, head and all, then buying Sun Shrimp whole is the way to go. It is great for a lot of things, and you cannot go wrong, even if it might take a little more effort to prep and eat these shrimp. Moreover, you can purchase these whole shrimp in different sizes and weights.
Whole Sun Shrimp can be purchased starting at 2.5 pounds. If you decide to go with 2.5 pounds, you will be getting delicious large Sun Shrimp, and the shrimp will come in a 5-tray pack. If you decide to get five pounds, you then have a choice between large and jumbo shrimp. You will also be getting a 10-tray pack at that point.
There are also 10-pound and 25-pound options when it comes to the whole shrimp, but those are only for large shrimp. That being said, you can add multiple orders of the jumbo to your cart, so you can have as many of these delicious shrimp as you want.
Sun Shrimp Tails
If you do not want the heads but still want some extra flavor, then you want Shrimp Tails in New York. Like every Sun Shrimp product, they come cleaned and ready to cook with. Plus, you have just as many options to choose from here as you do with the whole shrimp.
Just like with the whole shrimp, the weights start at 2.5 pounds and go up to a maximum of 25 pounds in a single order, though you can still add more to your cart as you desire. The same as above holds true with the jumbo shrimp as well, which can be ordered in tasty five-pound batches.
Peeled and Deveined Sun Shrimp
The last option for your shrimp is to buy them peeled and deveined. While it is the most expensive of the options, it also eliminates a lot of the hassle, allowing you to buy shrimp that are so ready to eat that you can cook them and enjoy the fresh taste right away.
As with the whole shrimp and shrimp tails, you can order them from 2.5 pounds to 25 pounds, with the jumbo being available in five-pound batches. They even come in the same half-pound trays as the other delicious shrimp.
Sun Shrimp BBQ Feast
The Sun Shrimp BBQ Feast is a special option that is meant to give an amazing treat to 2-4 people. It is a package that comes with everything you need to create a delicious meal, and it includes:
Two 8 oz. packages of whole jumbo shrimp

Four 8 oz. packages of jumbo shrimp tails

Bamboo sticks

Florida Everglades BBQ Sun Shrimp spices

Organic Olive Oil
You get everything you need to prepare your seasoning, coat your shrimp, and cook them up into an easy, scrumptious meal. It all comes in the convenient vacuum skin packages that normal orders come in as well.
Why Sun Shrimp Is Also More Convenient
Sun Shrimps convenience starts with the packages they use to store the shrimp. It is a vacuum skin package that eliminates mess and odor. Moreover, it makes them easy to store. However, that is not the only reason Sun Shrimp is one of the most convenient ways to purchase and enjoy shrimp.
Subscriptions
You can purchase a single order of shrimp if that is what you want to do. However, there is also an option to start a regular subscription. You can schedule shrimp to be sent out every week, two weeks, three weeks, or monthly. Those who decide to get Sun Shrimp delivered regularly even enjoy a discount.
Shipping
Sun Shrimp ships out Monday, Tuesday, and Wednesday. While you might be wondering why they only ship on certain days, there is a good reason for it. It is because it takes a lot of effort to ship shrimp out hours after it is harvested, which is exactly what Sun Shrimp does! It does not get much fresher than that.
The flat rate for shipping is 15$, but it is free on orders over 100$. Express and overnight shipping can be arranged through special request as well, so you can get delicious Sun Shrimp whenever you want. It does not get any easier than Sun Shrimp!